GOTCHA!
Capture the Creative Moment (in progress…)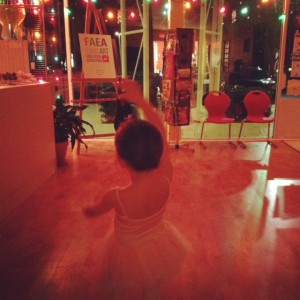 A special post on a special day…
GOTCHA #24: Fortunately, many creative moments exist in my daily world as a parent and art teacher, but this has been one of my favorite moments since we started this GOTCHA! campaign.
I took this photo of my daughter in the art studio after she had hours of dress rehearsal for her first Nutcracker performance at Paris Ballet and Dance, and yet that evening, she was still dancing. In her very young life, there once was a time when she was afraid to go on stage or even to go into a theatre to see a show. Now at 5, she is becoming a true lover of ballet, dance, and the art of performing.
I already see that the arts are giving her a creative outlet for self-expression and building her self-esteem.
This is the transformative power of the arts, and I'm proud to experience it often in my roles with children.
For the new year, give the children in your life the many benefits that come with regular involvement in the arts. You will be glad you did, and so will they. Happy New Year!
Join our GOTCHA! campaign for a chance to highlight your child's creative moments
…and win some cool art gifts, as well! Click here to upload your photo and submit your art story: https://www.kidsneedmoreart.com/gotcha-capture-the-creative-moment/
January 1, 2013