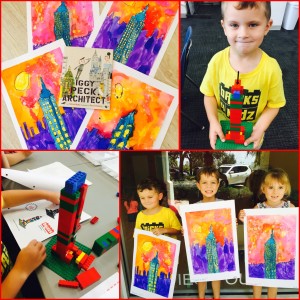 NEW!  Homeschool STEAM Classes! 
In collaboration with Bricks for Kidz at the South Florida Science Center's STEM Studio in Downtown Abacoa, KNMA is excited to introduce a new Homeschool program happening every other Friday!
It's full STEAM ahead with this integrated K-5 program that combines the sciences and the visual arts.  Each session will offer unique themes for exploratory and creative learning opprtunities.  
Visual Arts Component at the KNMA Studio:
Fridays 9:00am – 10:30pm
Cost:  $15
Science Component with Bricks4Kidz at the STEM Studio:
Fridays 10:30am – 12:00pm
Cost:  $12
Both programs are designed for students in Grades K-5 with differentiated instruction offered for various age levels.  
Please note that this program is a two part registration for a total of three hours of instructional time.  Please register below for the Visual Arts Component to be held at the KNMA Jupiter Studio in Downtown Abacoa, then CLICK HERE to register for the Science Component with Bricks4Kidz to be held at the STEM Studio in Downtown Abacoa on the same dates.  It is highly recommended that all attendees register for both components on the same day to build lesson continuity.
Fall dates are as follows:
Friday, March 31st
Friday, April 21st
Friday, May 5th
Friday, May 19th
For more information please call us at 561-746-4576
or email us at info@kidsneedmoreart.com.