$15 per session
Ages 2-4 (School Year Schedule)
Mondays from 10:00am – 11:00am
Mondays from 11:00am – 12:00pm
Tuesdays from 11:00am – 12:00pm
Ages 2-4 (Summer Schedule)
Mondays from 4:00pm – 5:00pm
Tuesdays from 4:00pm – 5:00pm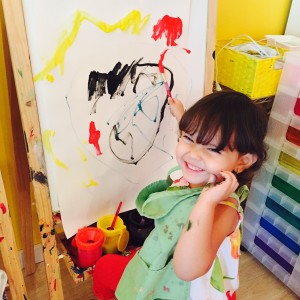 Kids Need More Art invites toddlers and moms (or dads!) to join us in our bright, colorful, and fun studio space for some creative together-time that's sure to become one of your favorite weekly "mommy & me" activities!
Each Tiny Kids class will offer an opportunity for little hands to get messy while engaging in an art activity with a little help from mom and our KNMA teachers.  We will talk about ways to encourage self-expression through art, and each young artist will leave with an art-to-go kit that can be used to promote creativity at home for tiny kids!
Start your toddler on an art journey with KNMA that will last a lifetime!
Choose a Session below to register and pay online.  If you do not see the date you are looking to attend, it is either full or closed for a special event.  Please choose another day.  
Don't forget your socks!  See you soon.
Preschool Series Classes for Artists Ages 3-5!
AGES 3-5
Preschool Mixed Media Madness
Get together with paint, collage, pastel, photographs, charcoal, crayon, and found objects for an afternoon of crazy fun with art!  Discover how the many mediums of art can come together to create texture, pattern, and value in one of the most popular art forms.
Parents remain on site during class!
Preschool Artists Ages 3-5
Mondays: January 8th, 22nd, 29th, February 5th, 12th (No class January 15th)
3:00-4:00pm
$90
Register
Mondays: January 8th, 22nd, 29th, February 5th, 12th (No class January 15th)
4:00-5:00pm
$90
Register