$15 per session
Ages 2-4
Fridays from 11:00am – 12:00pm
Saturdays from 11:00am – 12:00pm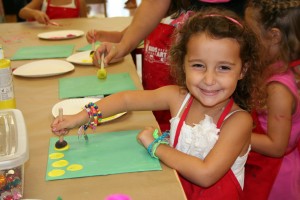 Kids Need More Art invites toddlers and moms (or dads!) to join us in our bright, colorful, and fun studio space for some creative together-time that's sure to become one of your favorite weekly "mommy & me" activities!
Each Tiny Kids class will offer an opportunity for little hands to get messy while engaging in an art activity with a little help from mom and our KNMA teachers.  We will talk about ways to encourage self-expression through art, and each young artist will leave with an art-to-go kit that can be used to promote creativity at home for tiny kids!
Start your toddler on an art journey with KNMA that will last a lifetime!
Dear Stuart Families,
The KNMA Stuart lease at 555 Place is up on June 30, 2016.  We have decided it is not feasible for us to re-sign for another three years.  Even though this is a bittersweet time as we prepare for this transition, we are excited to collaborate with Ground Floor Farm right around our corner and bring our awarding winning Art and Nature program to their space this summer!  So, this is not "good-bye," just a thank you to all of the artists and families who made our three years here so colorful!  We encourage you to also visit us in Jupiter as there is much to do in Downtown Abacoa and well worth the drive!  All Stuart gift certificates will be honored in Jupiter until June 30, 2017. Be sure to check out our awesome Summer Art Series and help us TURN ON THE ART this summer!  See you on the farm, Stuart!
Yours in art education,
The KNMA Stuart Staff