Hey, Kids (ages 5-9)…
Kids Night Out comes to Jupiter!
Join us for a night of fun, creativity, and art appreciation!
Young artists will look at the work of famous artists and create their own masterpiece in that style using some of the same techniques.  The evening includes: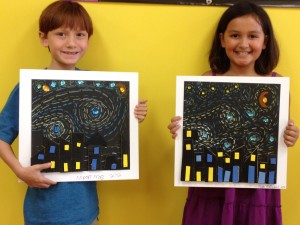 Master Artist themed art projects
Games and other activities
Pizza from our Abacoa neighbor Costello's Pizzeria!
Second Friday of every month, and select days when Downtown Abacoa has special events!
6:00 PM – 9:00 PM
Cost: $25 each night each child
Ask about sibling or group discounts.
Look for our other family and tiny kids activities during our Fun Fridays!
Sign up via the links below!
For more information please call us at 561-746-4576
or email us at info@kidsneedmoreart.com.